Step 1: Theme Installation
Upload via ftp:
First, unzip the zip archive you downloaded on your computer. Search the folder named color-wp-theme.zip and upload to your server via ftp to the /themes/ directory on your Wordpress installation. (wp-content > themes)
Upload via Wordpress admin:
Go to your Wordpress admin, and in the Appearance-panel, choose Add New Themes. Click Add new. Upload the color-wp-theme.zip. Do not upload the entire zip archive you downloaded from the web. Upload only the color-wp-theme.zip file. If you have a "missing stylesheet" issue you are uploading the wrong file!
Installing WordPress http://codex.wordpress.org/Installing_WordPress
Upload via Wordpress admin:
Once you have uploaded the theme, activate your theme in Appearance > Themes.
Using Themes http://codex.wordpress.org/Using_Themes
---
Step 2: Plugin Installation
A notice at the top of the screen will now suggest to continue with the recommended plugins installation. Click 'Begin installing plugins' and select the plugins you need to install from the list. All plugins must be activated once the installation has finished.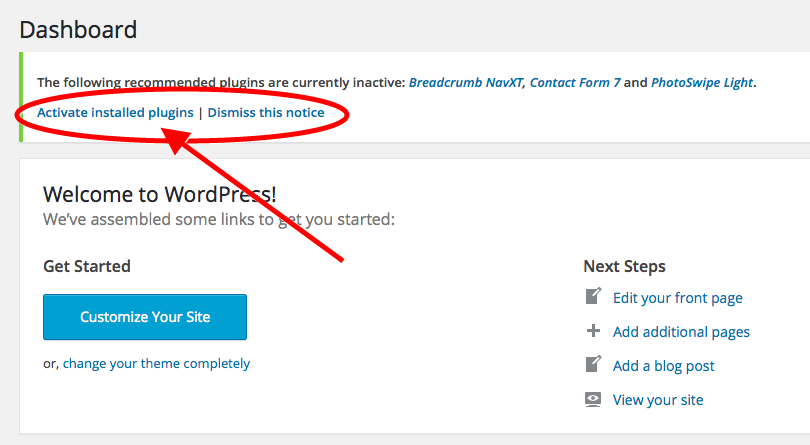 Required Plugins:
Adds a breadcrumb navigation showing the visitor's path to their current location.
Just another contact form plugin. Simple but flexible.
A very light implementation of PhotoSwipe javascript plugin for WordPress.
---
Step 3: Dummy Data Import
The theme comes with a .xml file containing demo content you can import into your WordPress site to populate your database. This will help you get started, in case you are running on a fresh WordPress installation with no content at all.
The XML file includes Demo Blog Pages, Demo Blog Posts, Demo Homepages, Demo Comments, etc. The XML file does not include any.
Follow the video tutorial click here
---
Step 4: Setting Front Page
After loading the dummy file, set the home page.
Settings > Reading > Front page displays: A static page
and select